SOLAR POWERED TORCHES AND RADIOS AVAILABLE BY MAIL ORDER FROM NAVTRONICS
SOLAR POWERED TORCHES
These waterproof torches charge in 3-4hrs of bright sunlight and run for about 2hrs per charge.
Includes red flashing warning light and 2 spare bulbs.
Flexible easy release stainless steel clips to fit any bicycle.
Torch can also by used as a battery charger to charge 2 x AA type rechargeable batteries.
They are so waterproof they can be used for diving, and they even float!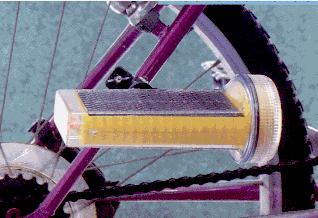 UK price £16.00 inc. VAT and Postage,
(please ask for overseas delivery costs) ------------------------------------------------------------------------------------------


Also :-

AM/FM RADIO AND TORCH POWERED BY SOLAR PANEL AND STANDBY HAND-WOUND GENERATOR.

<!rem:img src="images/Torche1.jpg" width="333" height="198" alt="wpe1.jpg (26402 bytes)"!>

These AM/FM Radios have a Solar panel for charging their own power pack.
or can be charged by hand winding the dynamo.
They can also be used as a battery charger for 2 AA type rechargeable batteries.
Includes torch and red flashing warning light
Price £23.00 inc. VAT,

Postage and packing

< Click here to Return to homepage

________________________________________________________________________

CONTACT :
NAVTRONICS

8 Battery Green Road,
Lowestoft,
Suffolk,
England,
NR32 1DE.

Telephone: 01502-587696
Fax : 01502-589159
Mobile : 0468-896384
E-mail : mikegarratt@hotmail.com

Since 19 March 1999 this page has been visited times.

________________________________________________________________________
________________________________________________________________________